The SnoreFree® method
is based on acknowledged speech therapy exercises and has been developed by Viennese speech therapist & anti-snoring specialist Dario Lindes since 2007.
Training, no surgery
The exercises, similar to voice training for singers & speakers, specifically strengthen the muscles in the mouth, throat & pharynx.
In more than 80% of our users, a clear improvement in sleep quality and a significant reduction in snoring noises can be observed after just a few weeks.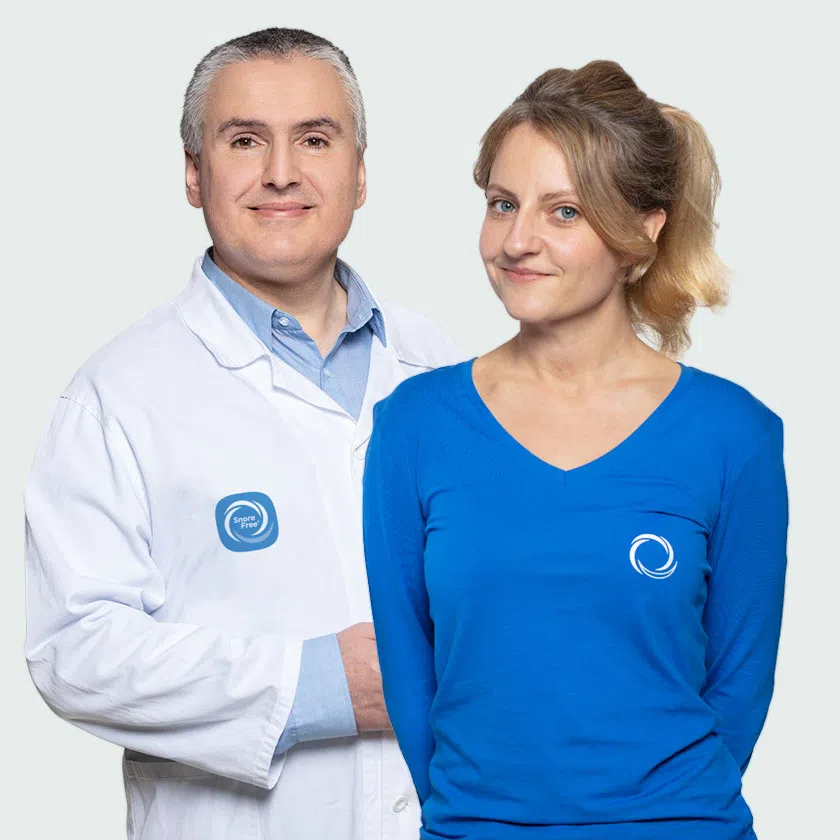 Therapy information
10 minutes is all you need
With only 10 minutes training a day, snoring can be significantly reduced and sleep quality noticeably improved.
Easy to follow exercises
The therapy program consists of 48 varied easy to follow video exercises. Your workout plan will be adapted according to your needs.
Personalized for best results
The SnoreFree algorithm adapts to the exercise behaviour and guides the user to optimal therapy success in four phases.

In 4 levels to success
1 Basics
Get to know all exercises.
2 Mirror
Start doing the Exercises right.
3 Autonomous
Develop sensitivity in the throat.
4 Duration
Keeps your muscles tight.
The SnoreFree method treats snoring
in the most natural way with exercises for lips, tongue tip, tongue base and throat
The muscular tissue weakness in the inner throat and pharynx, which causes the soft tissues to collapse during sleep and thereby obstructs the flow of breath, is specifically strengthened by the SnoreFree method, as in voice training for singers and speakers.
---
Science
The research
Dario Lindes has already carried out a pilot study at the Vienna General Hospital in 2007, in cooperation with the ENT department and the pulmonological sleep laboratory/2. Internal, in which his treatment method of logopaedic anti-snoring training was positively evaluated.
The pilot study 2007
The result of the basic research can be viewed here: The diploma thesis "Logopedic-myofunctional therapy for ronchopathy (snoring)" by Dario Lindes as PDF Download (in german).
In practice
Conclusion: The orofacial myofunctional therapy from speech therapy effectively helps to reduce objectively measured snoring production and intensity after only three months. It can help a large part of the population to sleep better and more relaxed.
Worldwide clinical studies
Clinical studies around the world, which dealt with the training-related influence of snoring and nocturnal respiratory flow disorders and showed a positive effect of oral exercises on sleep-related breathing sounds and breathing stops (sleep apnea).
Every first Monday of the month
Your free online consultation with Dario Lindes, speech therapist (SLP), voice coach, snoring expert and co-founder of the SnoreFree app.